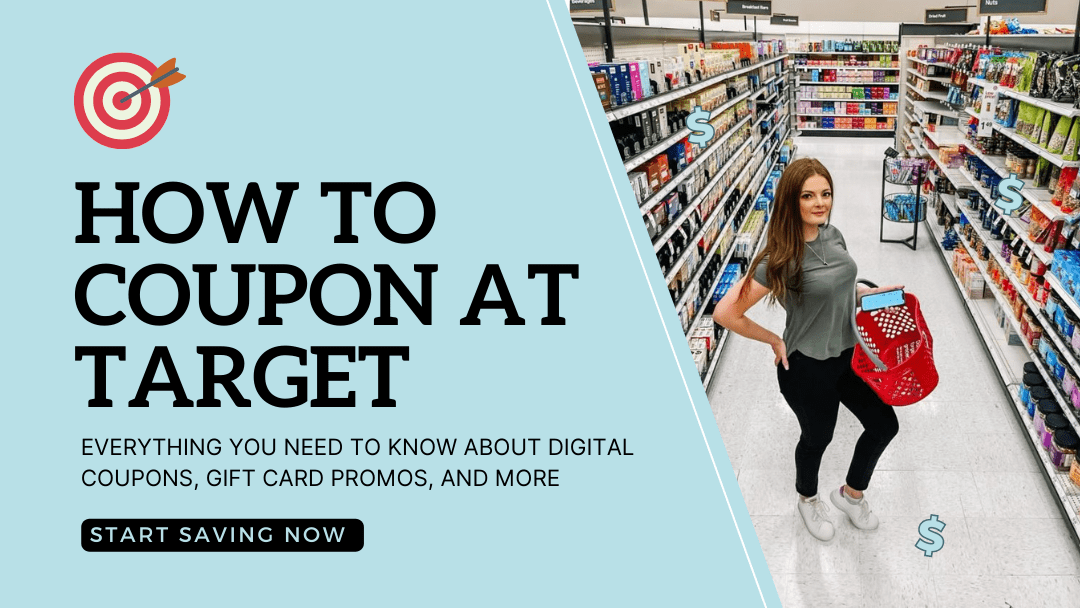 A lot of us know the feeling of stopping at Target to pick up a roll of paper towels and somehow rolling out with a cart full of stuff, a $180 receipt in our pocket, wondering what just happened. And because life is too short to not pick up that cute doormat or the mini desktop vacuum from the dollar spot, we can balance it out by saving on other stuff we need. Couponing at Target is easy and often all you need is your phone to grab some great deals on cleaning products, laundry care, food, personal care, and more.
I find Target to be one of the easier places to coupon – the Target app is pretty user friendly, and you can quickly find out which products have coupons just by scanning with the in-app scanner. I also like that their store rewards system is receiving and using Target gift cards; this way you can use the gift cards received from promos to buy other things you need or lower your out-of-pocket costs for any other couponing deals. Before we get more into that though, let's go over what you need to coupon at Target. 
Here's what we're gonna go over to get you started on saving that $
What you need to coupon at Target
The Target App or Target Website
The Target App is super helpful for couponing at Target. It is free to download and can be used to look up coupons and sales. Once you download the app, just sign in with an existing account or create an account and you are on your way.
The app isn't the only way to access coupons and sales information. If you don't want to or can't download the app, you can head over to Target's website, create an account (or sign in to an existing one) and clip coupons or look up sale information from there. At check out, you just need to use the phone number associated with your account for coupons to apply.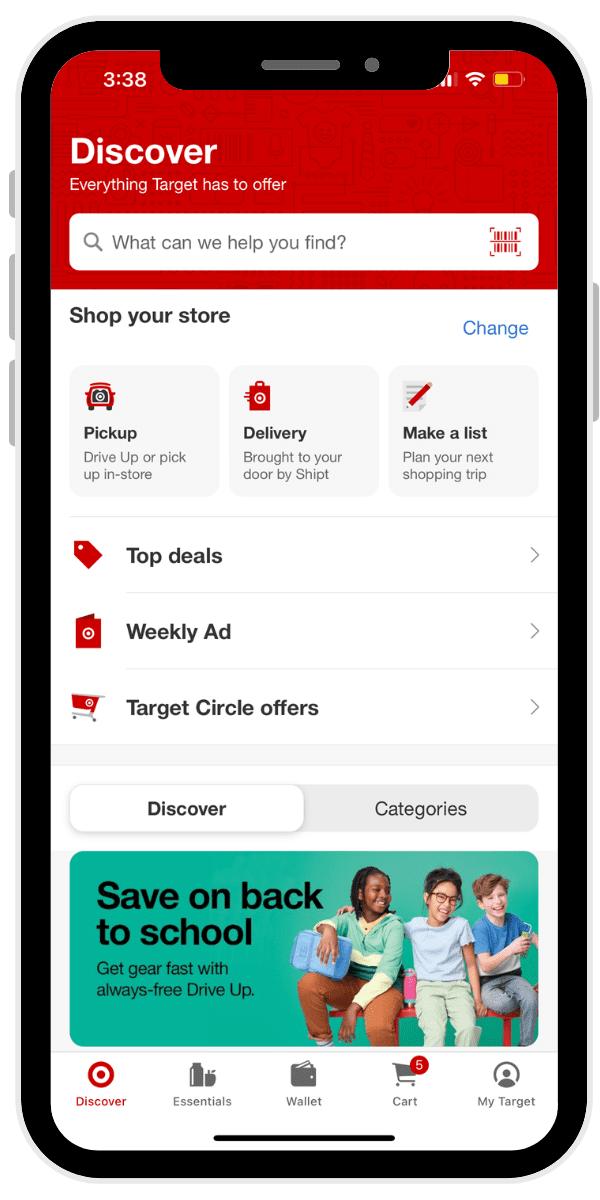 Cash back apps
While not essential to couponing at Target, cash back apps can help us turn good deals into great deals or even moneymakers. I go over a few cash back apps here that I think are good for couponing. If you're new to couponing, it can be better to just pick 1 or 2 apps to start off with and see if you find yourself redeeming the offers and get a feel for how each one works. Too many apps at once can get confusing and bit overwhelming. If I had to pick 2 to start off with at Target, I would go with Ibotta and Shopkick.
Where to find Target digital coupons
As mentioned above, you'll need either the Target app or website to start clipping digitals coupons at Target. Digital coupons at Target are called "Target circle offers". When you open the app you should be able to see the option to click on the Target Circle offers section right on the home screen. From there you can tab over from 'for you' offers (which are recommended offers based on your purchase history), 'all available offers' and the offers you currently have saved.  To save an offer just tap on the + right next to the offer and it will go into your saved offers lists to be redeemed at checkout.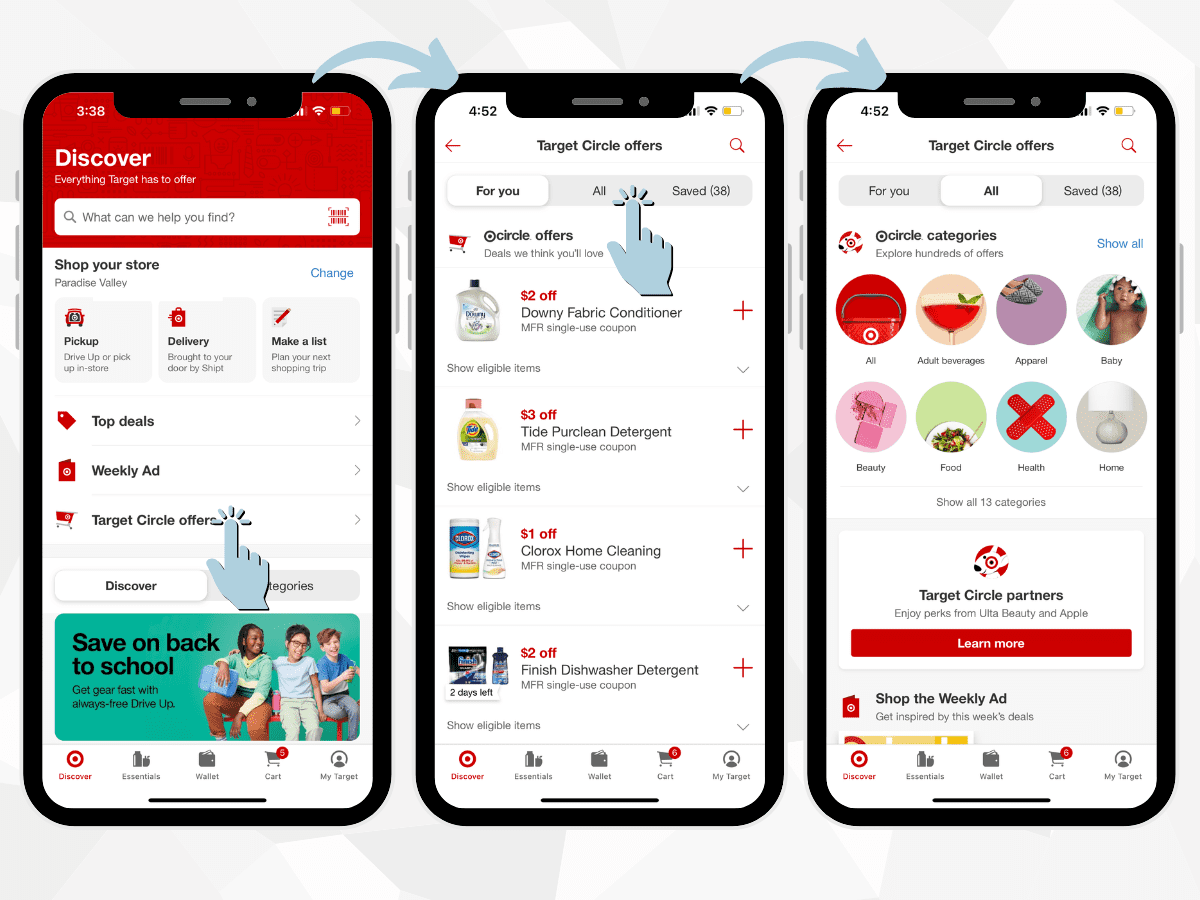 If using the Target website, hover over 'Deals' at the top of the page and select 'Target circle offers' from the drop-down menu. From there you'll see all the available circle offers which can be saved by clicking the red 'save offer +' button.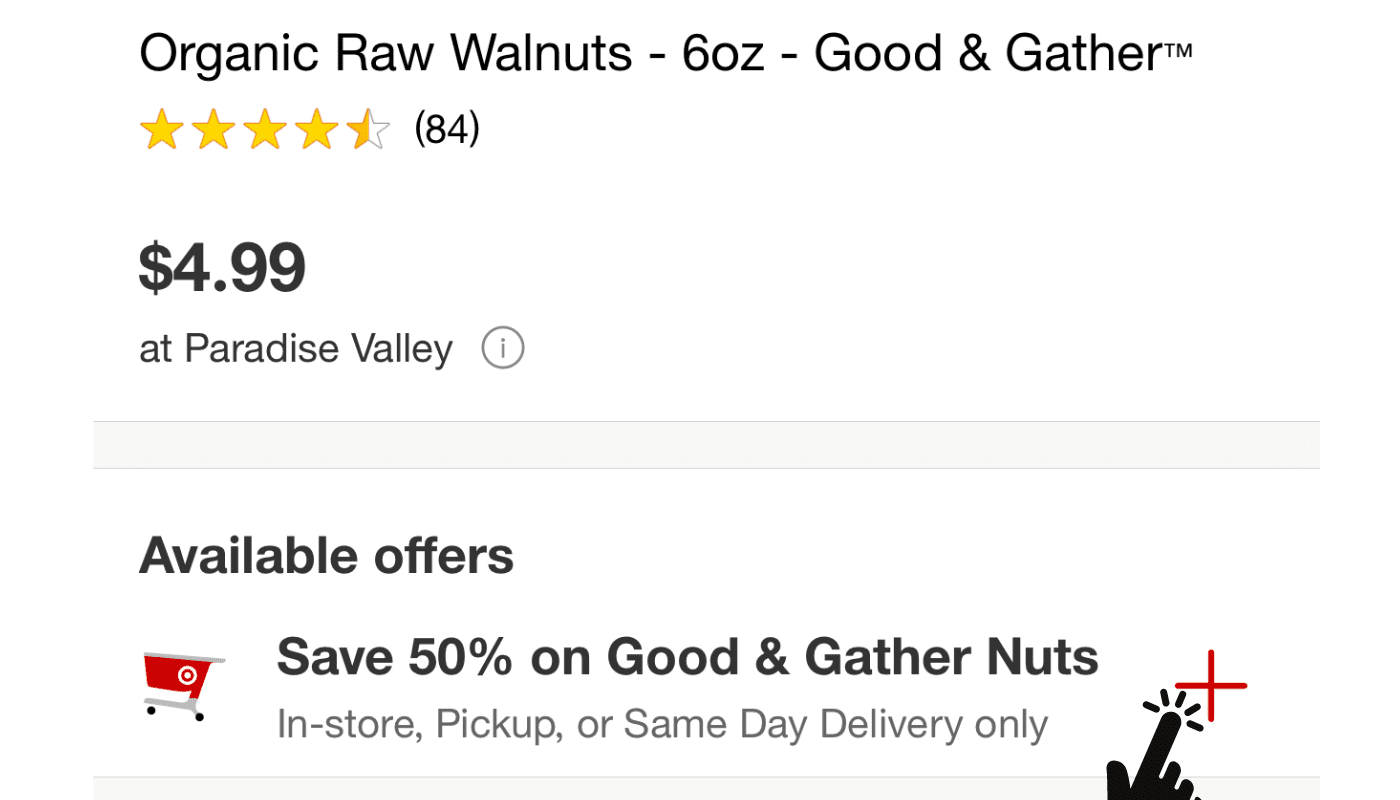 You're also able to save offers right from an item's product page. If you search or scan an item, scroll down a bit to see if there are any coupons or promotions attached to the item. You can then save the coupon by pressing the + which will save the offer to use at checkout.
To scan an item with your phone, look to where the search bar is in the app and to the right will be a barcode symbol. Click that to open the scanner.
Using Target circle offers
Once your offers are saved, you'll be able to use them at checkout but there are a few things to note first.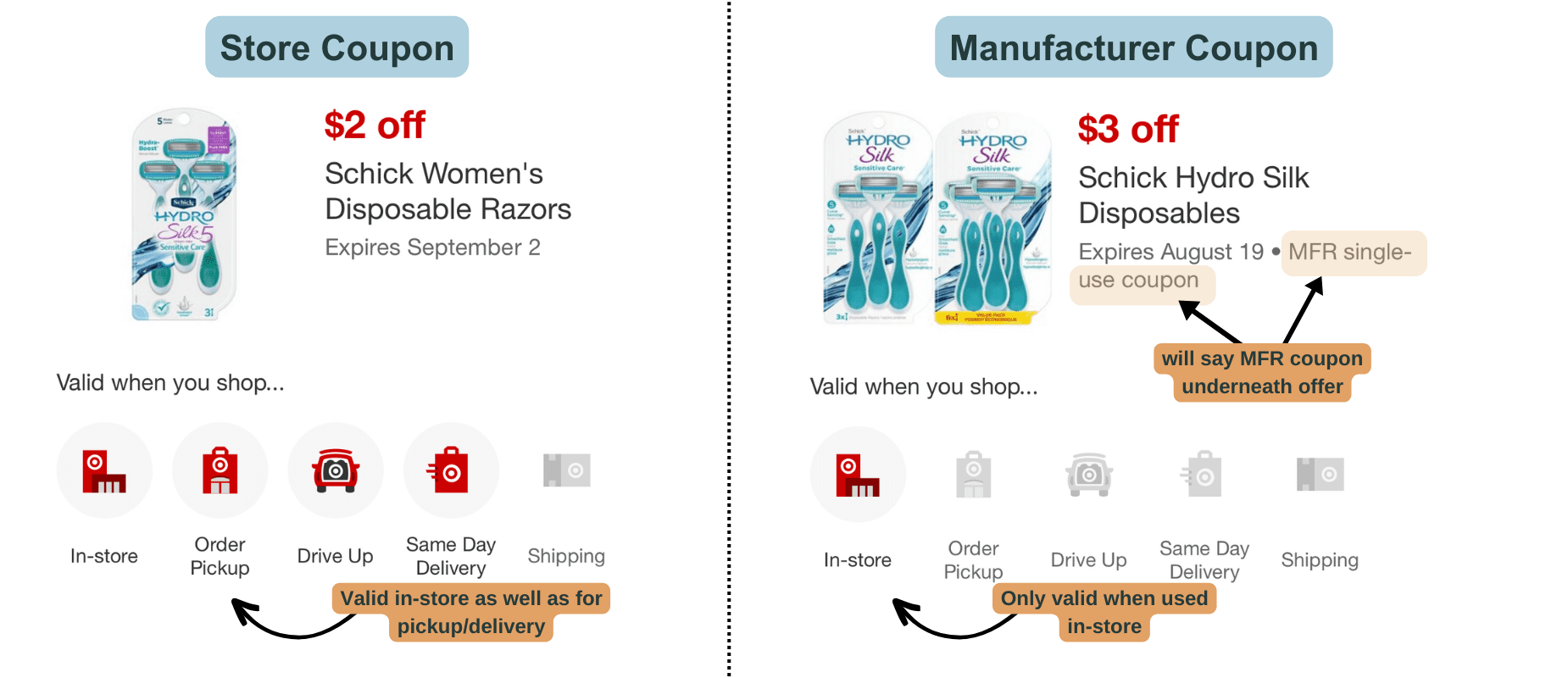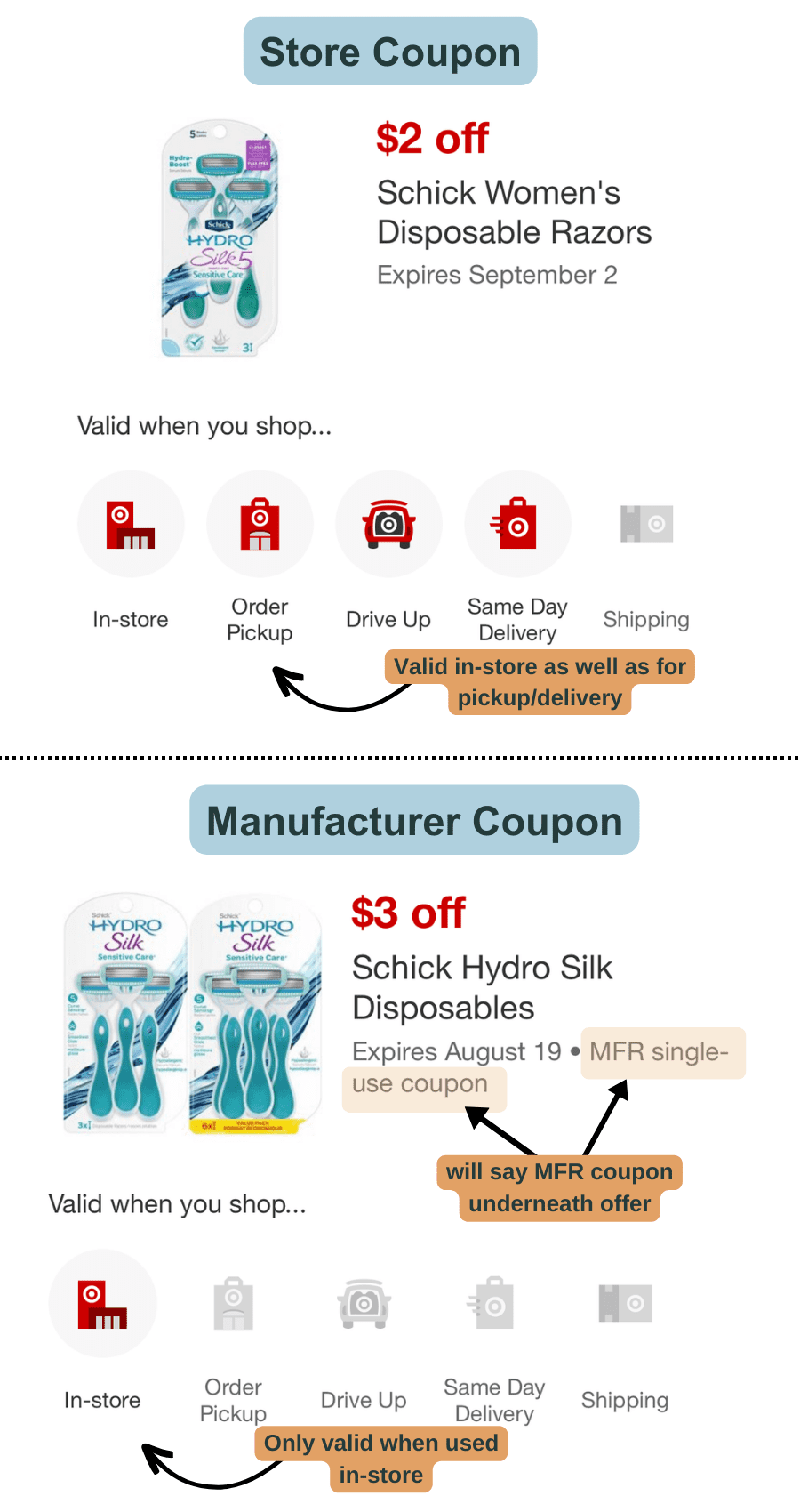 Target circle offers can be broken down into two categories: manufacturer coupons and store coupons. Store coupons will usually work in-store, for pickup/delivery, and sometimes for shipping as well. However, manufacturer circles will only work in-store and unfortunately will not apply for pickup, delivery, or shipping orders. If it shows that the coupon only works in-store it is most likely a manufacturer circle but you can also tell by looking at the offer and checking to see if says "MFR single use coupon' on the details (see above right image). 
If you see two Target circle offers for one product you may be able to use both of them on the same item. As per coupon policy, you can use (1) item level store coupon and (1) manufacturer coupon together on a single item as well as a category coupon such as a spend $25, get a $5 gift card. For example, the two coupons shown above will both come off when buying the eligible Schick razor since one is a store coupon and one a manufacturer. 
Store coupons and manufacturer coupons reflect differently on receipts. Store coupons will adjust the price of the item while manufacturer coupons will come off as a payment method. Discounts from manufacturer coupons won't reflect on the subtotal or total but instead are shown on the line 'Digital MFR coupon PAYMENT' which is underneath the total on the receipt. You'll notice that your payment method gets charged the total shown on the receipt minus the amount listed on the MFR coupon payment line. 
It is a good idea to double check while you are in-store if the items you are buying qualify for a coupon before checking out. I like to scan my products in-store with the app to make sure the item matches up with the coupon. Some items may look similar but have different UPC numbers or sometimes coupons exclude certain colors/scents/flavors etc and may not apply.
Manufacturer coupons are single use and will only apply to one item. Percent off store coupons will often work on up to 4 items in a transaction and on up to 6 transactions per day but this will vary so make sure to check the coupon details first. Store coupons that are for a $ off amount will usually also be single use but sometimes work on multiple transactions depending on the offer.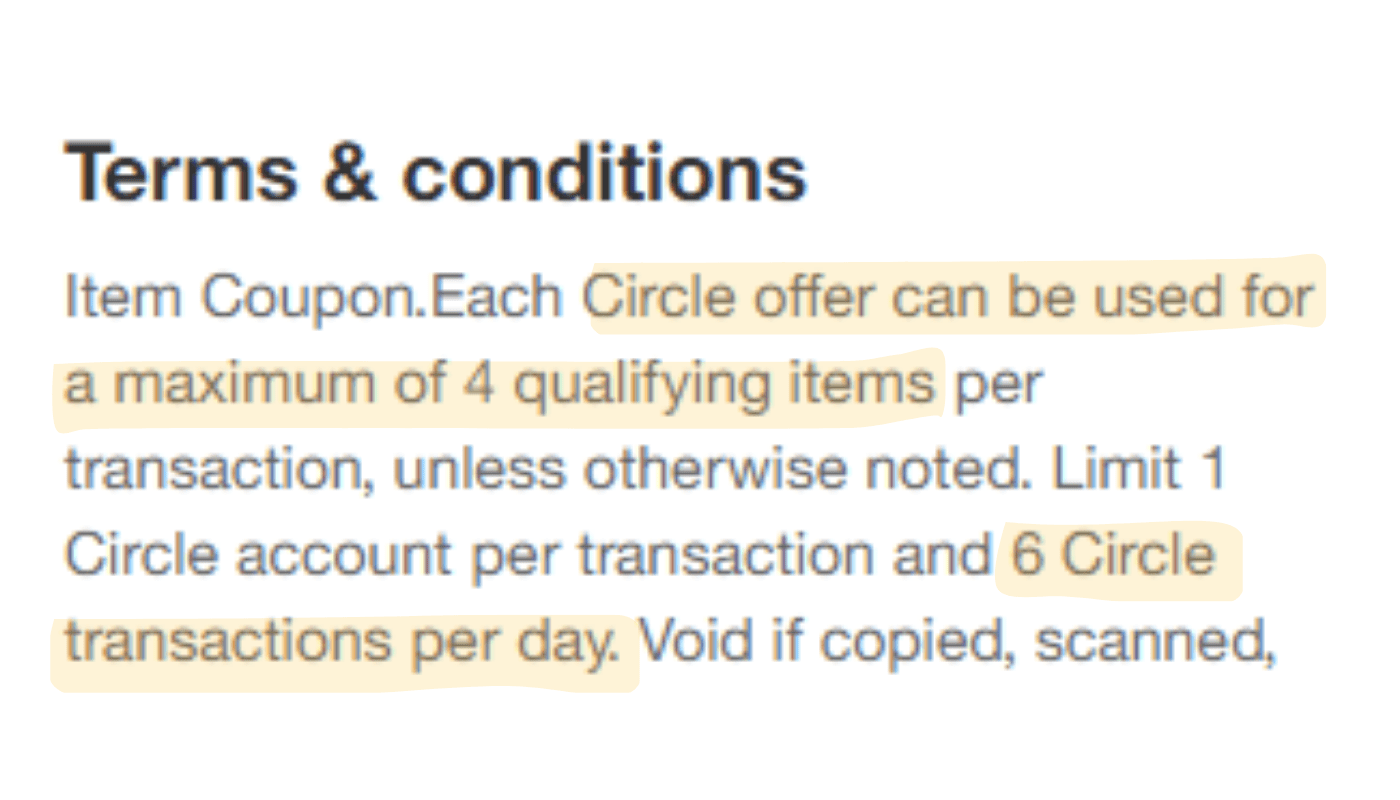 For Target circle offers to apply at checkout, you just have to enter in the phone number associated with your account before going to pay and the coupons will apply automatically. At self-checkout it will prompt you to put in your number after pressing pay or at a regular register the option will be right on the payment screen and you can enter your number at any time. If you have the Target app you can also go to the 'wallet' tab and click 'show my barcode' and have the cashier scan that to access your coupons or scan it at self-checkout before paying.
Combining Coupons with promotions and cash back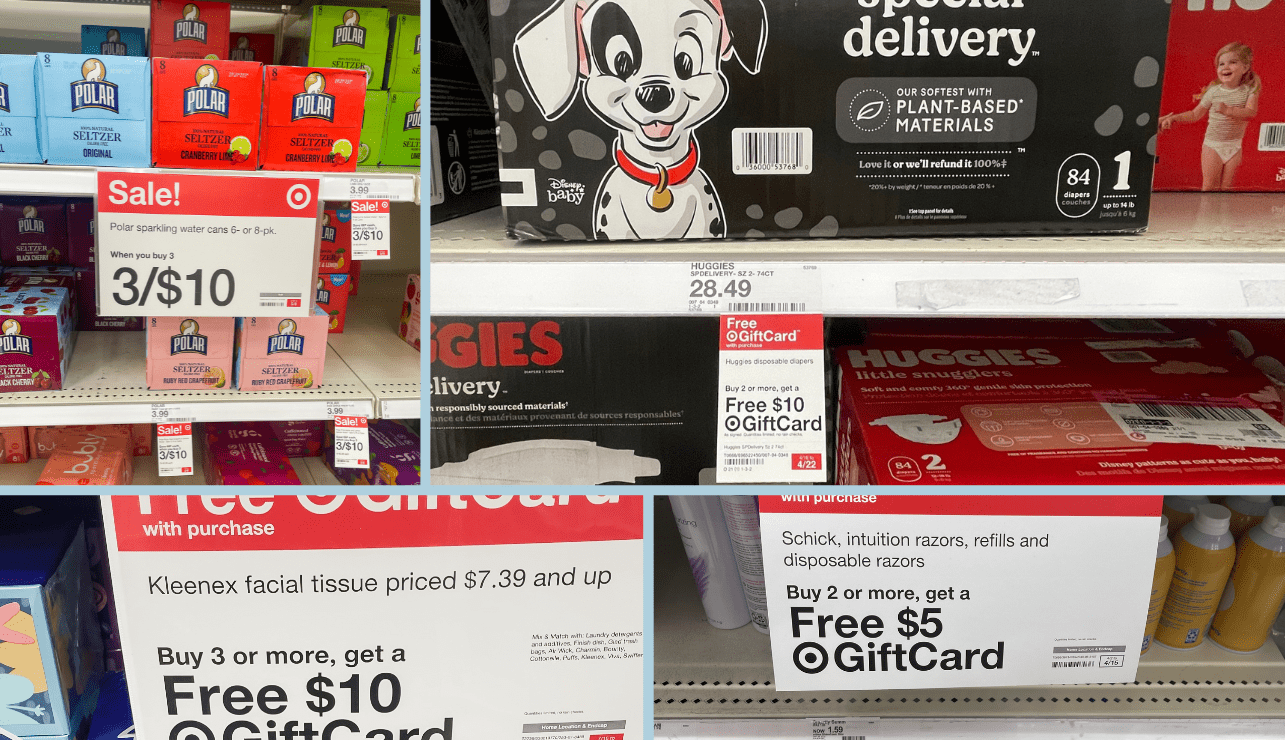 Target Promotions and Sales
Target circle offers can be combined with other store promos and often with cash back offers. Gift card promotions, like a buy 3, get a $10 gift card or spend $25, get a $5 gift card, can be combined with Target circle coupons making those deals even better. You can also use Target circle offers with sale prices and BOGO promotions.  Scroll on down to the next section for more information on gift card promos.
Cash Back Offers
Whether you can use a circle offer with cash back will depend on the app and specific offer. In general apps like Shopmium and Alexa cannot be combined with other manufacturer coupons since their offers are manufacturer coupons. Stacking with Ibotta rebates will vary depending on each individual offer, make sure to look at the details for each offer to see if it says whether it can be combined with coupons or not. Although Ibotta hasn't clarified this yet, it seems store issued coupon are fine to stack with all Ibotta offers. Fetch Rewards and Shopkick don't have any restrictions with coupons at this time.  For more details on cash back apps check out the cash back app page here.
All About Gift Card Promotions
One of my favorite things about shopping at Target is that their store reward system involves Target gift cards. Every week you'll find promotions for either spending a certain amount on eligible items or buying a certain quantity of eligible items to receive a gift card at checkout. These gift cards can't be used on the same transaction you earn them on, but they can be used on any future transactions. You can also use any previously earned gift cards to lower your cost at checkout and still receive a gift card back. The gift cards don't expire and you can add them to your wallet in the Target app to have on hand with you whenever you shop.
Most gift card deals can be done as many times as you'd like. Gift card promos that require you to spend a certain amount (ie. Spend $40, get a $10 gift card) will only work once per transaction but can be repeated over multiple transactions. Gift card promotions that require you to buy a certain quantity (ie buy 3, get a $5 gift card) will work multiple times in the same transaction or over multiple ones.
My least favorite thing about couponing at Target (or at least explaining it) is the confusing verbiage on the app and website for gift card promotions. People often get confused about being able to receive gift cards from a promotion in store when the app or website will say the promo is only for pickup or delivery. I'm still not entirely sure why Target does this but if the gift card promo says it is for pickup or delivery only, it is 99% of the time also in-store. If a promotion says 'online only' then it will not be available instore but can be done for pickup, delivery, or for shipping. Checking the weekly ad can be a good way to double check whether the gift card promo is in store but not all gift card promos each week are in the ad. Here's a quick reference to help decipher what each gift card promo eligibility means:
Special promotions could differ from above , for example Target will usually have gift card promotions during their Cyber Week which actually only apply for pickup or delivery and won't work in-store.
Using Paper coupons at Target
Using newspaper coupons and printable coupons at Target has gotten increasingly more difficult over the past few years. While their policy states that newspaper and printable coupons are accepted in stores, it has become a bit of headache with coupons not scanning and they often require assistance from cashiers (who aren't always the most helpful).
In 2022, Target implemented a new verification system for coupons which started to cause a lot of coupons to not be accepted at checkout even though they were valid. Over the past year, the system seems to have gotten better and more coupons will scan at checkout these days but not as well as it used to be. Paper manufacturer coupons work the same as digital manufacturer coupons; you can stack them with gift card promotions and stack them with a store coupon but not on top of a manufacturer Target circle coupon. See the getting started page for more info on where to find paper coupons.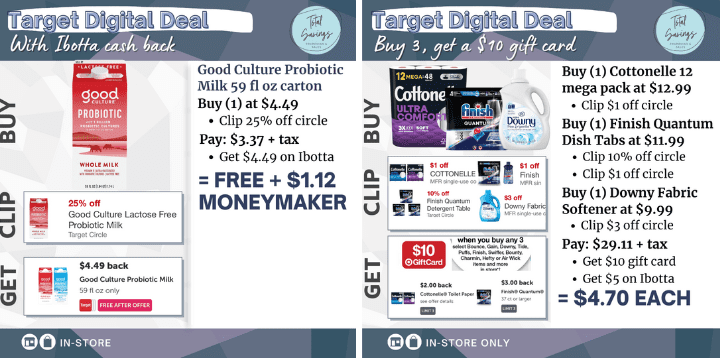 Target's sale week begins every Sunday. New deals and a lot of new coupons will come out Sunday morning at 3 am ET/ 12 am PT. Digital coupons are released throughout the week as well, but most will come out on Sunday. The preview of the upcoming week's ad comes out every Friday and can give you a great idea of some of the upcoming promotions and sale prices.
Each week when I start looking for deals this is what I do:
The first thing I like to do is to look through cash back offers. Seeing what offers are available makes it a bit easier to spot coupons and promos that would stack.
Secondly, I look through Target circle offers and sort by newest. I click each coupon (well okay, not each one but probably most) and look under the eligible items to see if the coupon will take a good percent off any items, or even better make any free.
Last thing I do is see what gift card promo and sales are currently going on. For a summary of some of the current sales, gift card offers, and BOGO promotions you can go to the Target help section and click on 'current promotions' to see a list of promotions that week. Note that this list does not include any of the promotions that are in-store only, it will only show ones that are available instore + pickup + delivery and some that are available for shipping.
As I go through each of these things I'll stop if I see something that I know has another promotion available for it and do some quick math to see if we have a good deal on our hands.  If I'm looking for a deal on something in particular, I will search for the item in the app and look for any items that have promotions or coupons attached. Using the app for this is a bit easier since it will note on the search results page if there is a coupon for an item while on the web it won't.
One of the easiest ways to find deals at Target is to find breakdowns already created! For current deal breakdowns make sure to check out the Instagram feed here or follow me directly on Instagram, Facebook, and Tiktok.