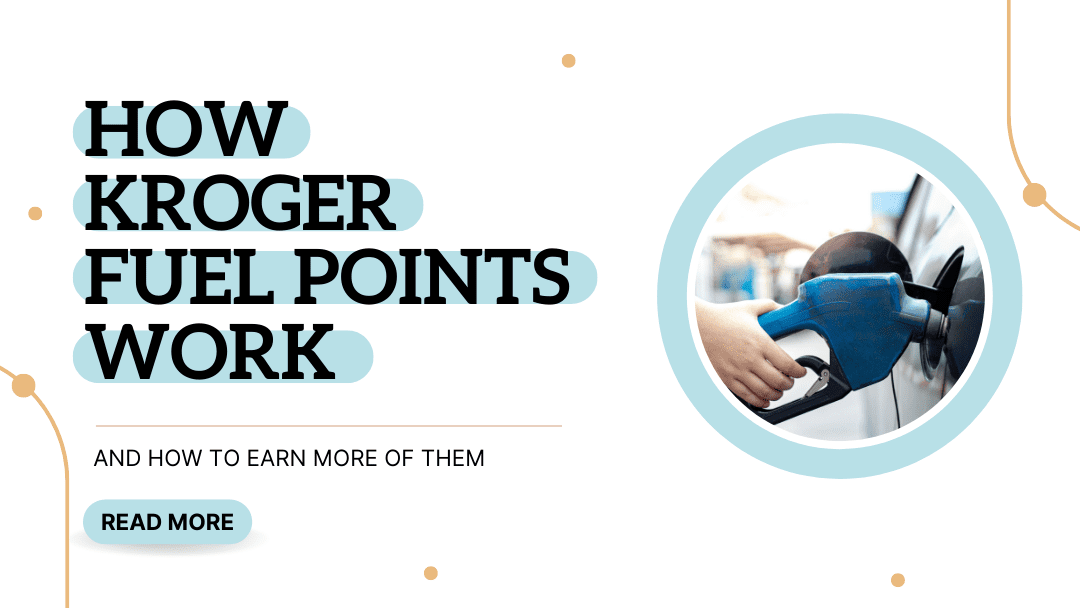 If you are a Kroger shopper with Kroger gas stations or participating gas stations nearby, then it's time to get familiar with Kroger Fuel Points.  If you are shopping at Kroger and using a Kroger account at checkout then you are already racking up points! Kroger Fuel Points do expire though so you'll want to make sure you keep track of what you have.
But first, here is how you earn Kroger Fuel Points.
Earning Kroger Fuel Points
Whenever you shop at Kroger and use your Kroger number at checkout you earn fuel points! For the most part you'll earn 1 point for every dollar you spend pre-tax. As stated by Kroger, items like tobacco, promotional tickets, postage stamps, and money orders are not eligible to earn fuel points on. Some states do not allow for fuel points to be earned on adult beverages and milk products.  You'll also earn points when you shop at Kroger Pharmacies and Fred Meyer Jewelers. 
Points can be earned when you shop in-store, order for pickup, delivery, or ship to home. There is no limit to how many fuel points you can earn each month but the points will expire at the end of the next month that they were earned in. For example, any fuel points you earn in January will expire on the last day of February.

If you want to check to see how many fuel points you have you can check the near the bottom of your last printed receipt or go to the point summary while logged in to your account here.
Point Summary:
Every $1 spent on groceries (with some exclusions) = 1 point
Every $1 of your out-of-pocket costs for federally funded Prescriptions = 1 point
Non-federally funded Prescriptions = 25 points flat
Every $1 spent on most gift cards = 2 points
Redeeming Kroger Fuel Points
To redeem Kroger fuel points, head to either a Kroger fuel station (including Kroger affiliates) or a participating fuel station. Participating stations include some locations of Turkey Hill, Kwik Shop, and Shell. To see participating stations near you click here for the store locator and under Popular Features make sure to check 'Fuel'.
At Kroger stations you can redeem your points for $0.10 off per gallon for every 100 pts you redeem on up to 35 gallons of fuel. This will vary by location but some will only allow you to redeem up to 1,000 points ($1 off) at a time. For example, if you redeem 400 points you will get $0.40 off per gallon for that purchase, on up to 35 gallons of fuel. 
At participating shell locations, you can only redeem a flat 100 pts meaning you'll get $0.10 off per gallon, up to 35 gallons when you input that you'd like to use your points.
If you are paying at the pump you'll be prompted to insert your Kroger card or you can enter your Kroger number with the keypad. You can also use your Kroger card or enter your number with a cashier if paying at the register instead of at the pump.
At Kroger fuel stations the screen will show you how many points you have for both the current month and the previous month. It will then prompt you to choose which month to use and then to select how many points you would like to redeem for the transaction. If you are at a participating shell location the $0.10 discount (100 point redemption) will apply after inputting your number and confirming to use points.
If you don't want to use any points you can also select option 3 which gives you $0.03 off per gallon just for using your loyalty account. 
After selecting your points, the fuel discount will be reflected on the price of each fuel type.  Select your fuel option and pump as normal!
See below for a step by step: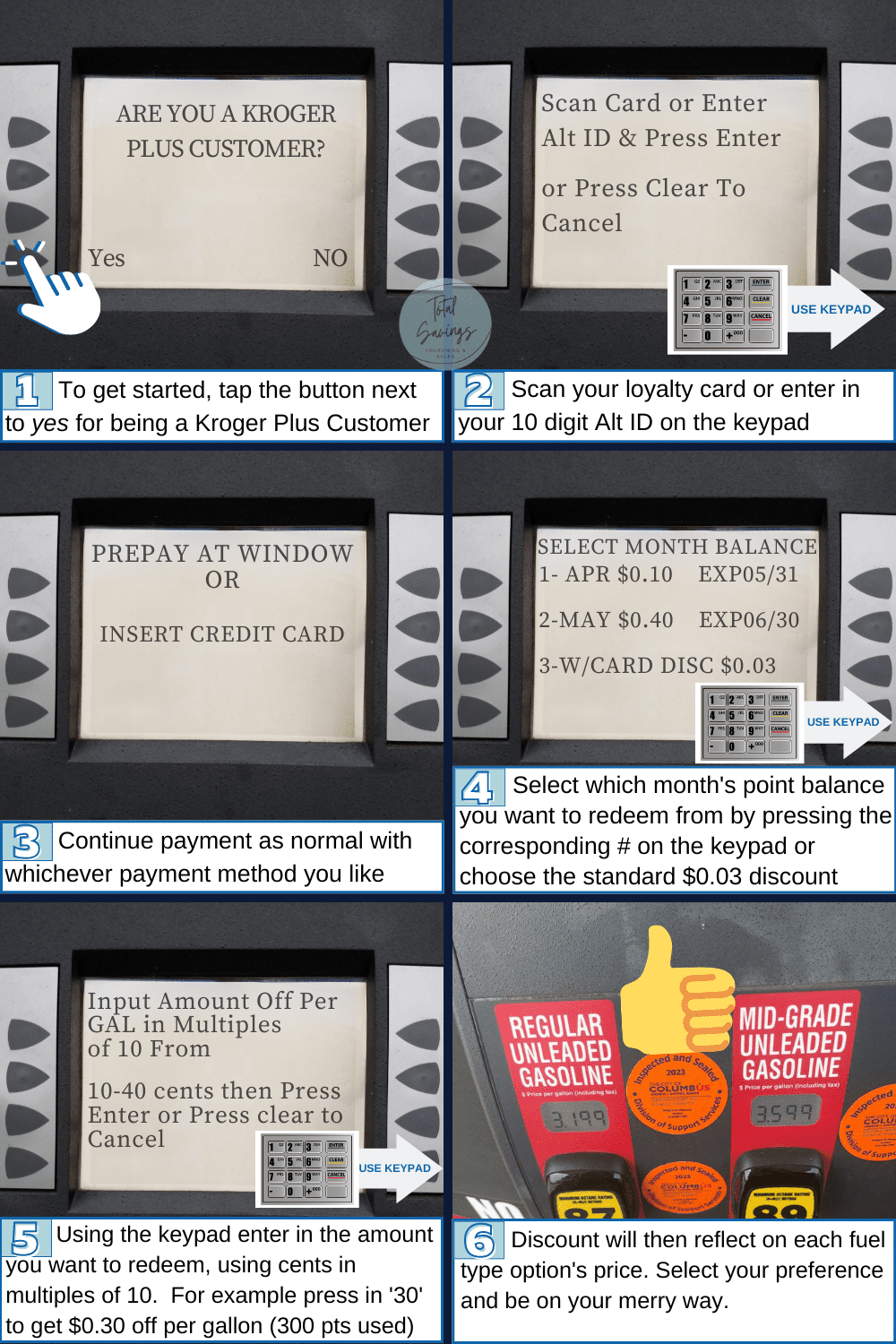 How to earn more fuel points
Like with everything, we like to maximize our savings here. If you are a regular Kroger shopper there are a few ways you can rack up more fuel points each month.
Fuel Point Multipliers on Grocery
On Mondays try checking for any digital coupons that will multiply fuel point earnings on groceries when you shop on certain days that week or with certain brands. These can sometimes vary by region, but you can always check what's available by searching 'fuel' in your digital coupons section and see what comes up. For a couple months here in Columbus we had 5x fuel points every Friday with a clipped coupon. Make sure to read the details on the coupon- sometimes the extra fuel points may only apply if buying certain brands or certain departments.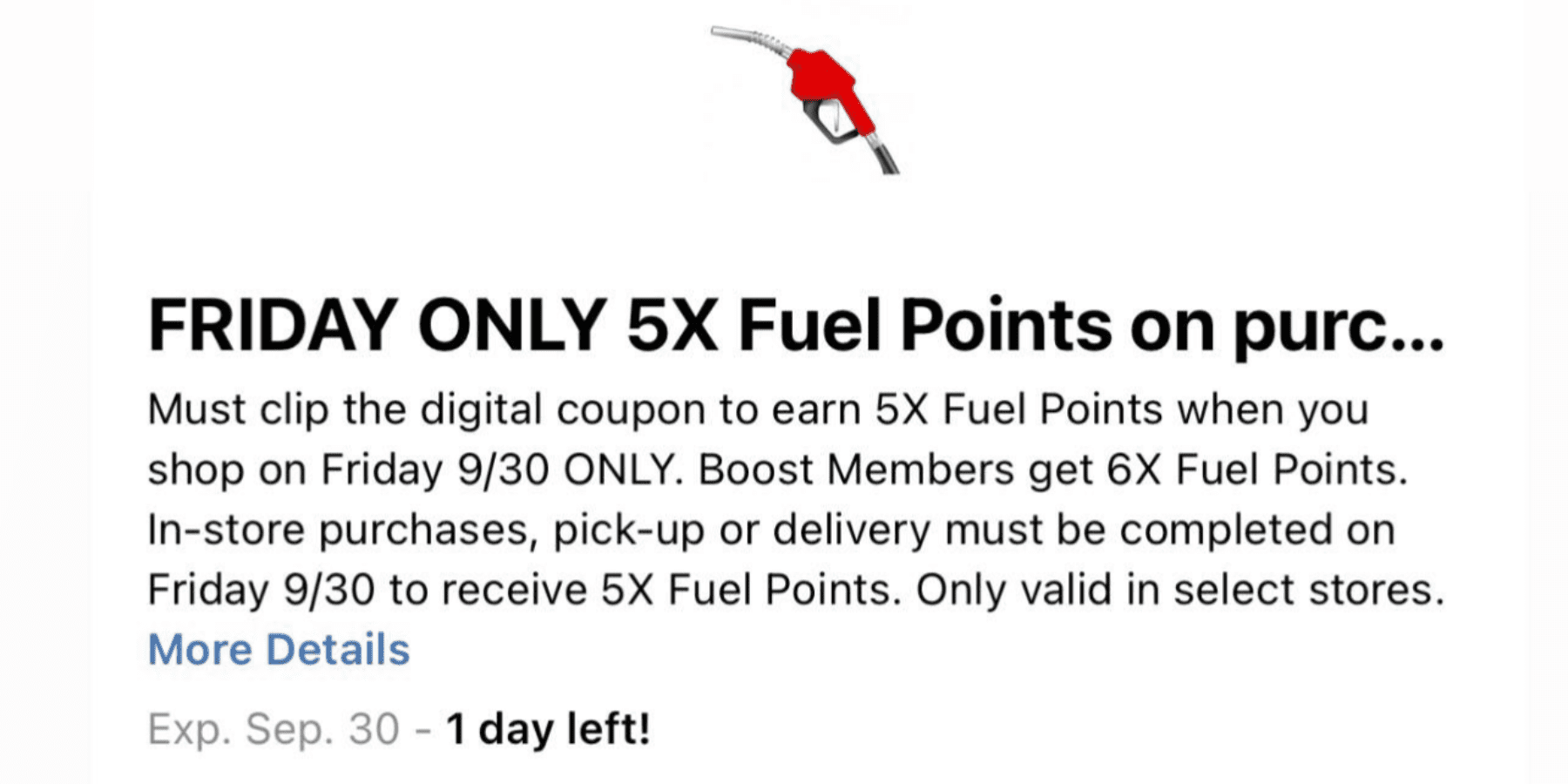 Fuel Point Multipliers on Gift Cards
Similar to the grocery multiplier is the opportunity to earn extra fuel points when purchasing gift cards. Kroger often runs 4x gift card events where you'll earn 4x the fuel points on gift card purchases when you clip the corresponding digital coupon. Make sure to check the details of the digital coupon as sometimes they will exclude certain gift cards and there is often a separate coupon for Visa and Mastercard gift cards. The digital coupons may also be for a set amount of fuel points like 200 bonus points when you purchase a certain brand.
Satisfaction Survey from Receipt
Check your Kroger receipts for the opportunity to do a satisfaction survey. You'll earn 50 fuel points by giving feedback and you can do one survey every 7 days. With your receipt in hand go to www.krogerstoresfeedback.com to enter in your purchase information and answer questions about your store experience. It will ask you at the end to enter in your ALT-ID or Kroger Loyalty card number and you should receive the fuel points within 5 days of completing the survey.
Redeem your Points Reward Plus points
When you shop at Kroger you're also earning points when you buy certain items that are part of the Points Reward Plus program. When you spend $40 on participating items, you'll receive a code for 1000 points printed at checkout. Redeem your code on www.pointsrewardsplus.com to collect your points that can be redeemed for a variety of items including bonus fuel points. As of right now you can get 500 bonus fuel points for 2,000 points. You can see how much you've spent towards the $40 for reward points on your last printed receipt under 'Gaming – Points Rewards Plus.
Bonus Opportunities
Check the Kroger homepage before heading in-store or placing an order online for any additional bonus point opportunities like placing a delivery order between certain times.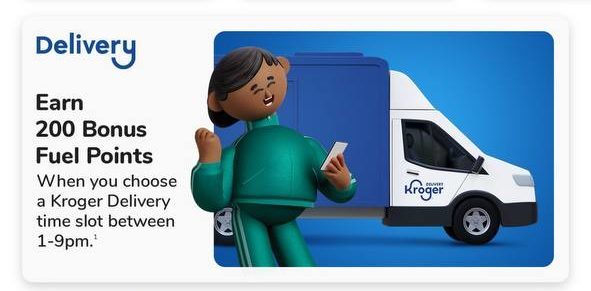 Looking for more information on which cash back apps to use?
If you're looking for more information on which cash back apps are best for couponing and how to use them make sure to check out the cash back essentials page!