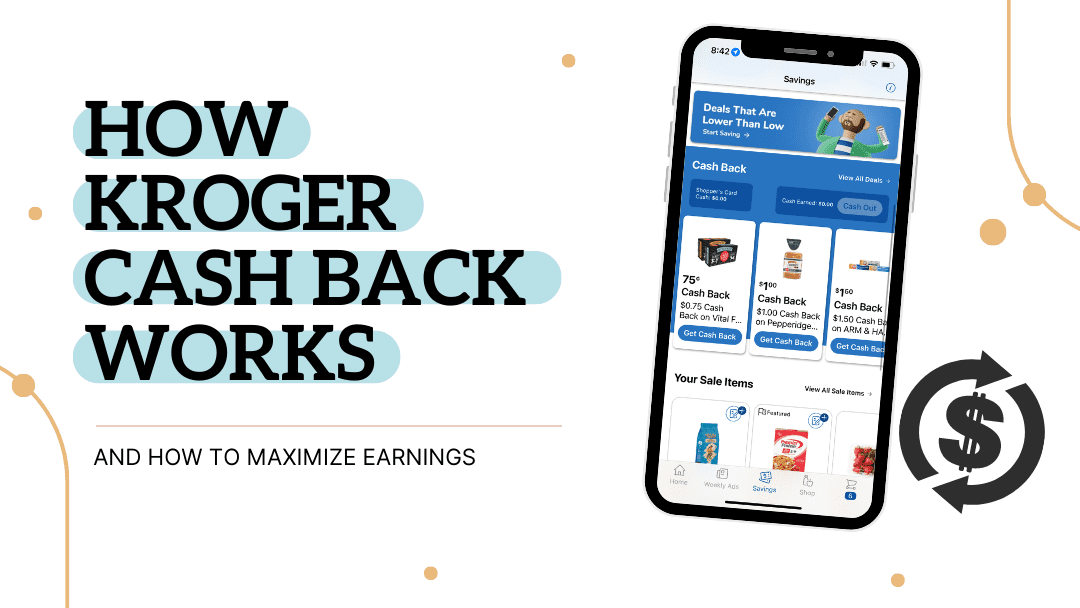 Loyalty programs have become an integral part of many businesses, offering incentives and rewards to customers for their continued patronage. One such program is the Kroger Cash Back program, designed to enhance the shopping experience and provide additional savings for Kroger customers. Kroger Cash Back is a great tool for couponers as it allows us to save money without the use of paper coupons. In this post I'll get into some of the issues with Kroger Cash Back and answer some frequently asked questions about the program. First let's get into the basics.
Understanding the Basics:
The Kroger Cash Back program is an exclusive initiative offered by Kroger and its affiliate grocery stores.  As a Kroger customer, you can participate in this program to earn cash back on purchases made in-store or online, unlocking substantial savings on your grocery bills.
Enrollment and Participation:
To participate in the Kroger Cash Back program, you must have a Kroger Shopper's Card. If you don't already have one, you can easily obtain it from any Kroger store or sign up for a digital card through the Kroger mobile app or website. Once you have your Shopper's Card, you are ready to start earning cash back.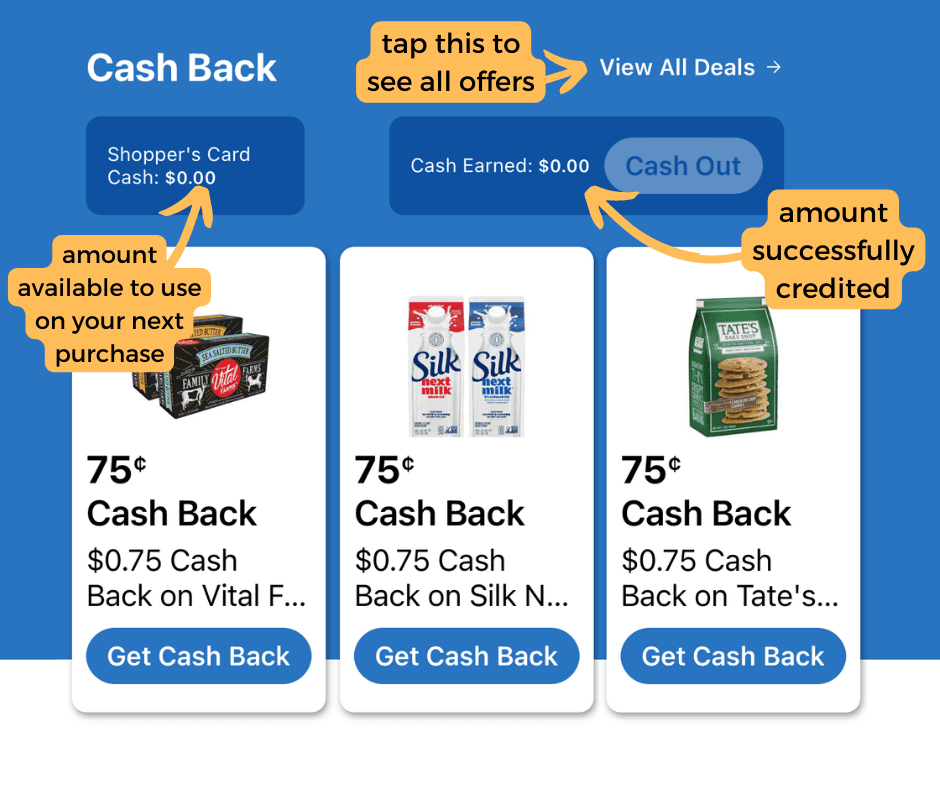 Earning Cash Back:
The Kroger Cash Back program allows you to earn cash back on eligible items from purchases made at Kroger stores or affiliated stores.  To activate cash back offers:
Go to the Kroger Cash Back section of the Kroger website and make sure to log in with your account. Alternatively, you can log in to the Kroger app and go to the 'savings' tab, then slightly scroll down to the Kroger Cash Back section. You'll see the Shoppers Card Cash balance and Cash Earned balance plus a few cash back offers. (See above image) Click on the 'View all Deals' text at the top right and you'll be brought to the Kroger Cash Back section and see all the current offers.
Before shopping you need to clip any cash back offers you plan to use. If you do not clip the offer before shopping, you will not be credited for the cash back offer. Click that nice big blue "Get Cash Back" button and the offer will move to your 'Loaded Deals' tab.
Shop either in-store or online. If shopping in-store, make sure to use your Alt-ID at checkout so that your purchase will be recorded and the cash back offer will apply.
Kroger Cash Back is not credited immediately and there is no way to currently tell from your receipt if the offer applied successfully. However, when your offer is redeemed successfully, it will disappear from your 'Loaded Deals' tab after you purchase. Kroger Cash Back offers successfully redeemed will then credit to your account within 7 days (although it is often sooner than that). You will see the amount reflected on the 'Cash Earned' balance shown on the 'savings' tab of the app or the Kroger Cash Back section of their website.
If you make a purchase and notice your offer is still in the 'Loaded Deals' section, then the Kroger Cash Back did not work and will not be credited.
What to do if the Kroger Cash Back Offer Didn't Work
If you notice that a Kroger Cash Back offer clipped did not disappear from your 'loaded deals' tab after purchase, then the offer did not work and you won't be credited. First, make sure to check the offer details and look at the eligible items under the offer to see if the item you purchased qualifies for the offer. If the item or items you purchased should have been credited from the offer then it's time to contact Kroger Customer Service for credit.
There are two easy ways to do this. Keep in mind that a customer service agent may tell you to wait 7 days after purchase to contact but I always try to mention the offer is still available to me so I know it did not go through.
Chat online with a customer service agent.
Go to www.kroger.com/hc/ help/contact-us and you can launch a live chat to speak with an agent during business hours. Make sure to mention any offer that you did not get credited for and how many items you purchased. They should then credit the amount to your shopper's card and sometimes will add a bit more for the trouble. Next time you go to shop you can use your shopper's card balance at checkout.
Call the automatic line.
An easy and fast way to get credited is through Kroger's automated assistant. You can of course choose to speak to an agent instead but the automated one is quick and usually hassle free. You can call them at 1-800-KRO-GERS and if you want the virtual assistant, press option 2, then 5. When prompted, say you had a digital offer missing, when prompted for the brand mention the brand name of the Kroger Cash Back offer (ie. Pringles, Kelloggs etc).  Again, they will credit the amount to your shopper's card to use next time at checkout.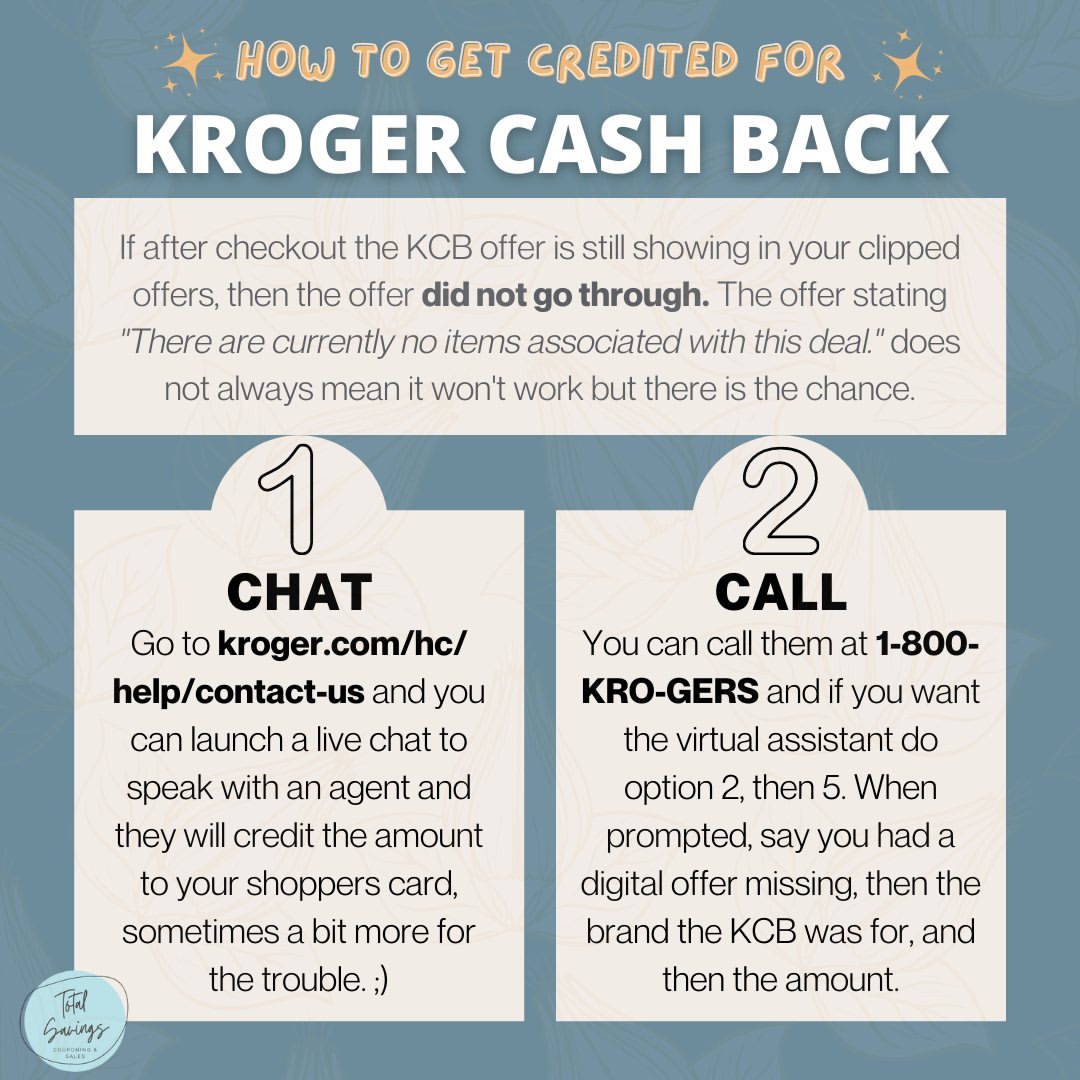 Cashing Out Your Balance
To cash out your Kroger Cash Back balance select the 'cash out' button either on the Kroger app or on the Kroger Cash Back website.
Accumulated cash back can be redeemed through two options:
1) Cash out your balance to your Kroger's shopper's card – no minimum balance required.
You can cash out any amount earned to your shopper's card which will then be available to use next time you shop.
2) Cash out your balance to PayPal – $20 minimum balance required.
You can choose to cash out your balance to a PayPal account for any amount over $20. When going to cash out your balance it will ask to confirm your PayPal email address before sending it to your PayPal account.
You can cash out up to $99.99 per day. Please keep in mind, as with any cash back app or program, it is recommended that you do not save up a balance and cash out whenever you reach the minimum amount required.
As stated by Kroger "Cash Back Reward earnings cannot be applied to the purchase of fuel, gift cards, alcohol, pharmacy purchases, tobacco products, lottery, money services and fees."
Additional Information and FAQ
Can I use coupons with Kroger Cash Back?
Kroger Cash Back offers can not be used with manufacturer coupons, which includes both manufacturer digital coupons and manufacturer paper coupons. You can however stack the offers with store issued coupons including weekly digital deals, savings for you, best customer bonus coupons, etc.
Do Kroger Cash Back Offers Expire?
Yes! Each offer will show the expiry date below the details. You can redeem the cash back up until that date but keep in mind that offers may become unavailable to clip before the expiry date. If you think you may purchase an item that you see a cash back offer for, it is a good idea to clip that offer when you see it just in case. Even if the offer is not available to clip any more , you can still redeem the offer if you had clipped it when available.
How many items can I redeem cash back offers for?
This will vary by offer. You can double check the offer details to see how many items you can get in a transaction. For example, if the offer states 'Redeem this offer 3x in a single transaction" you can get the cash back amount on up to 3 items. Some offers may also require you to purchase multiple items like save $1 when you buy 2. The cash back offer can not be used again after the first transaction.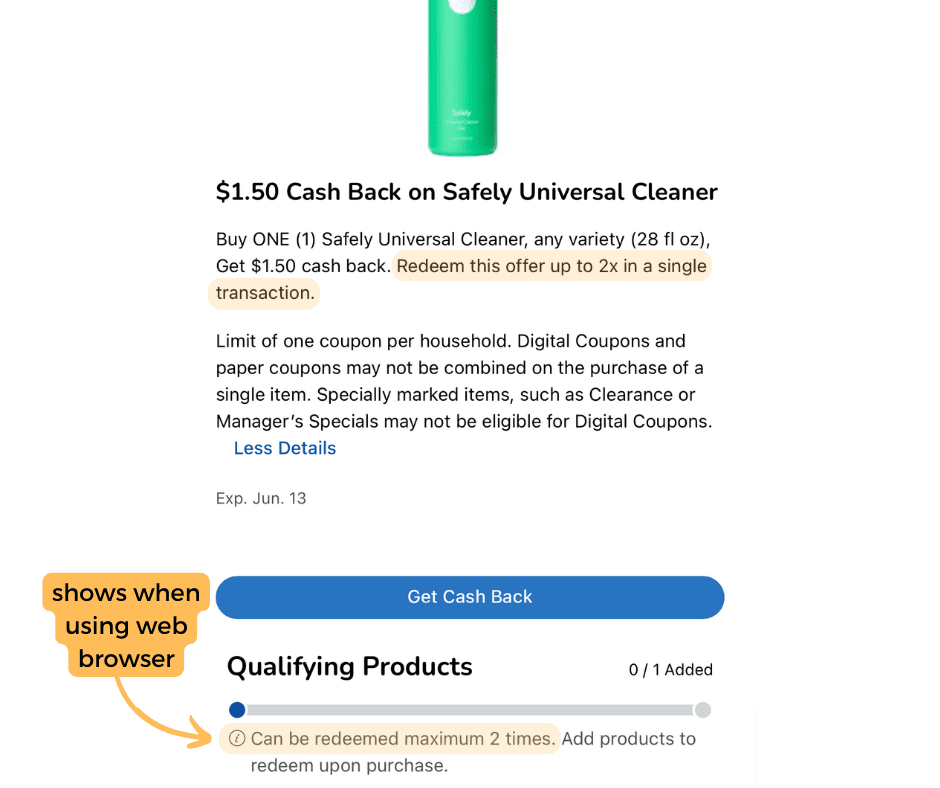 Why does my cash back offer say 'no applicable items for this deal'?
This could be for two reasons. First, if the Kroger location you have set as your store does not carry any items included in the offer it will show the 'no applicable items' message. Sometimes the item may still be available in-store but isn't showing as in-stock online.
Second, Kroger Cash Back offers almost always show this message on the first day the offer comes out (this is normally Wednesdays). I am not sure why this issue has never been fixed but it consistently shows this message until the next day after the offer comes out. It does not always mean the offer won't work but there is a chance.
Is it better to use the app or website for Kroger Cash Back?
While this will be up to your preference, I personally only use the website when looking for Kroger Cash Back offers. I find the app more difficult to use and it currently does not offer the options to filter by category or a 'sort by' option. For some reason,  some offer details will only show on the website version as well.
Should I use the Kroger Cash Back Program?
Even though the program is a few years old now, it still has some issues to work out. Out of all the cash back programs and apps , it seems to be one of the least reliable for getting cash back automatically. However, I personally have found customer service to be helpful and have always received my cash back after contacting them (and like I mentioned, sometimes extra for the trouble). But this is still an extra step, and I can see why this would turn people off from using it. I hope Kroger will be able to fix these issues one day because I do really enjoy the savings we get with Kroger cash back offers and have turned some good deals into great deals in the past.