Disclosure: Some of the links below are affiliate links, meaning that at no additional cost to you, I will receive a commission if you click through and make a purchase.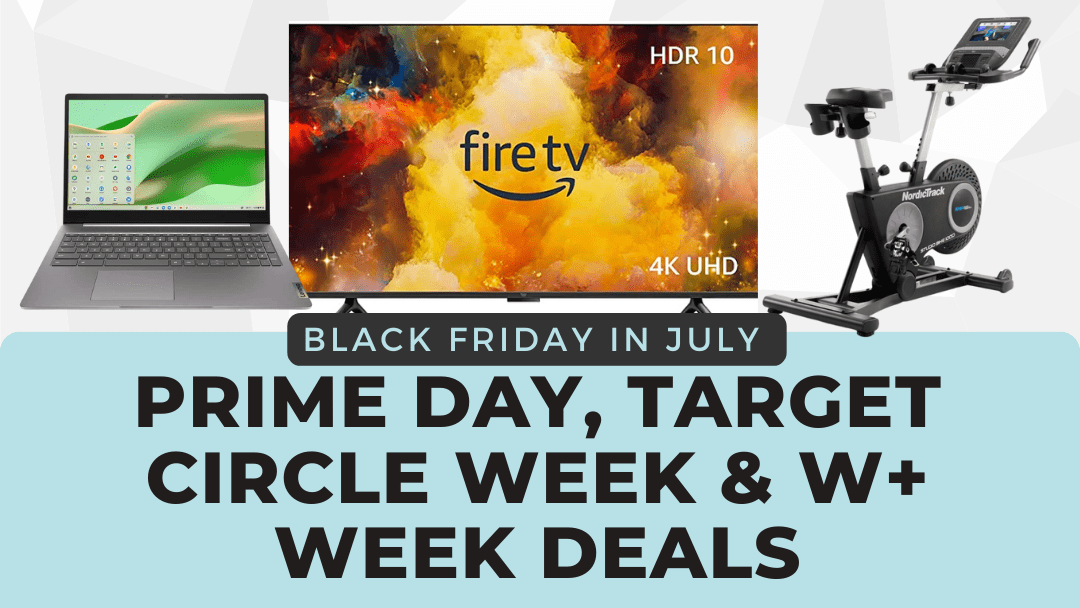 Next week starts one of my favorite times of the year! Much like a Black Friday in July, major retailers will start their respective online sale days/week offering some big discounts for their members. I am a bit more excited this year cause after our recent move from Ohio to Arizona, there are a lot of things we need right now and this sale week comes at the perfect time.
I'll go over some  of the deal previews and how to score memberships at cheaper prices but first, here's the dates to keep note of:
Amazon Prime Days – July 11th and 12th
Target Circle Week – July 9th-15th
Walmart+ Week – July 10th to 13th
Secondly, if you want to follow along with deals during the week I will be posting them as they come up on several different channels.
1) Instagram and Facebook Stories – check stories on either of these platforms for direct links to deals as they come up. Follow at @total_savings on Instagram and Total Savings on Facebook.

2) Telegram channel – Telegram is the easiest and quickest way to get notified of deals as they come up and convenient for run deals that might go fast. You can set notifications to pop up on your phone or desktop. You can also mute sounds on the channel to avoid the notification sound from continually going off but still see the message pop up with deals. Join my channel by following this link.
3) Facebook group – I recently started a Facebook group specifically for online deals called 'Total Savings Deals, Coupon Codes, and Freebies
Alrighty, lets get into it!
Amazon Prime Days

Amazon's Prime Day, the eagerly anticipated annual shopping extravaganza, is back and better than ever! The event will run on both July 11th and July 12th but keep an eye out for some early Prime deals to start saving now.

Amazon Prime Membership
In order to take advantage of Prime member only deals you'll need to have an Amazon Prime Membership or be on a household account with a Prime member.
If you're sad because you don't have a Prime membership right now and getting pre-FOMO, there are some ways to get it free or cheap so you can join in on the deals next week.
Amazon Prime 30 day free trial. 
If you haven't had a Prime membership within the last 12 months, you could be eligible for a free 30 day free trial of Prime. Just click this link to see if your eligible and get access to all the deals this upcoming Prime day.
Student 6 month free Trial 
Eligible students can get a free 6 month trial of Prime by signing up here.  After the 6 month trial period, students will also be able to receive the membership for 50% off it's regular price. This also gives students access to exclusive student only deals and promotions.
SNAP, Medicare and other government assistance discounted membership
If you receive SNAP, Medicaid, or other qualifying government assistance, you can save 50% on a Prime membership. Check this link for eligible programs and to sign up for 50% off Amazon Prime

Amazon Prime Day Deal Preview
One thing different this year is "invite only" deals on some of the bigger ticket items. Ahead of Prime day you can request an invite for these deals and on July 11 or 12 emails will be sent out with invitations to select users to buy the products at the deal price. You can request these deals by going to the product page of each item and clicking on "Request an Invite".
Here are a few of the deals to request an invite on:
You can also expect:
Tech deals on Amazon devices like Fire TV sticks, Blink Cameras, and Kindles. Also expect deals on Ring cameras, Apple Products, 40% off Bose, 50% off Sony headphones and more.
Toy deals like up to 50% off Barbie, 30% off Squishmallows and LEGO sets, and up to 30% off kids and baby fashion items.
Back to School deals on Crayola products, 30% off Bentgo, 30% off Heydude shoes, and more.
Health and Fitness deals with up to 40% off Peleton Bike+ guides, bikes, acessories, and apparel and 40% off select products from Lemme by Kourtney Kardashian Barker.
Home deals with up to 50%

 

on select floorcare from Bissell and iRobot and up to 40%

 

on select kitchen appliances from Ninja, Keurig, Vitamix, and Breville.
In previous years, I've found that some of the best deals are the ones that aren't advertised but the ones that pop up during Prime days with stacking offers or some of their lightning deals. Make sure to follow along on the Instagram/Facebook stories, Telegram, or Facebook group for deals the day of.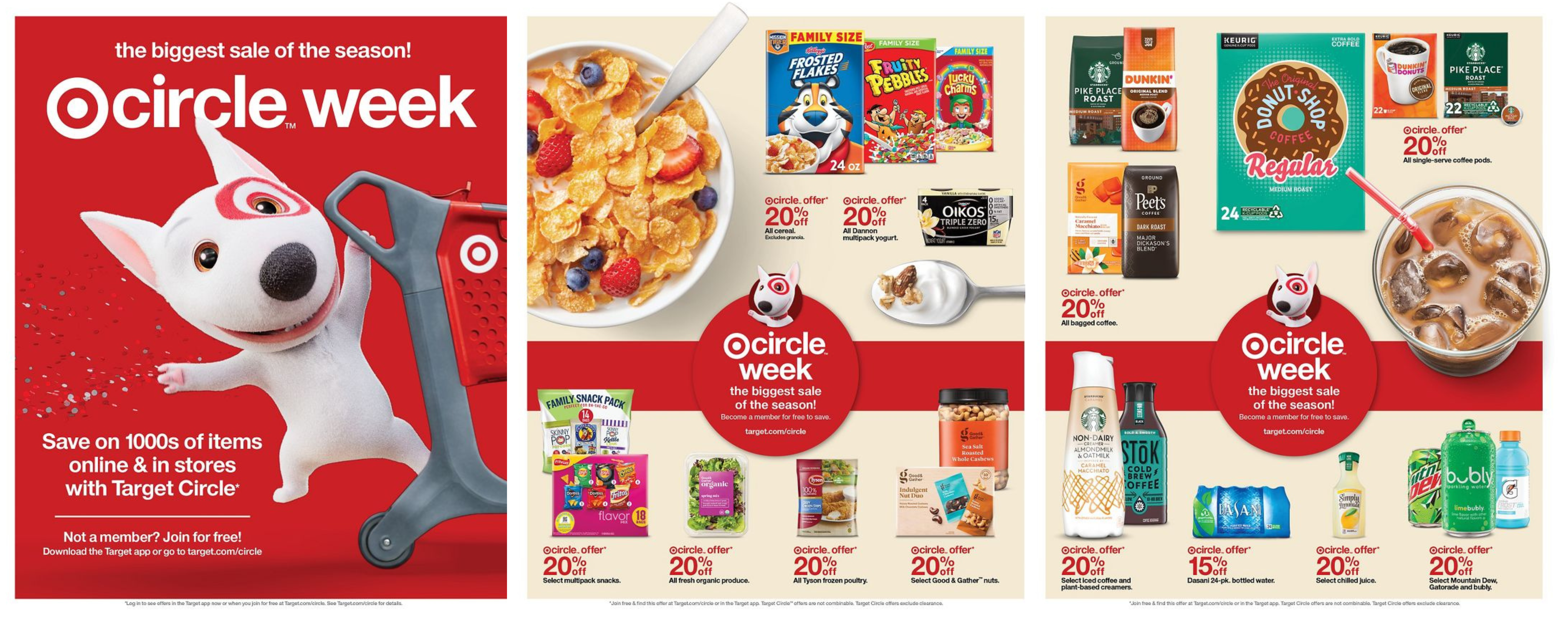 Target circle week is a week long event for members of the Target circle program. Many of the discounts will reflect after clipping Target circle offers and coupons in your account. Target circle is completely free to sign up for and gives you access to Target's digital coupons and exclusive offers. If you're new to Target couponing check out the FAQ for more details on how Target circle offers work.
Target Circle Week Deals
During Target circle week, Target will usually have the same sale prices as some of the Amazon Prime advertised deals as well as their own deals, some available instore and online.
You can actually pre-save some of these deals now.
Other deals include:
$99.99 Bissel Little Green Vacuum
$249.99 Dyson Ball Animal Vacuum
Starting at $249.99 Apple Watch SE 2nd Gen
$59.99 Keurig K-Mini Single-Serve K-Cup Pod Coffee Maker
$259.99 Westinghouse 50″ 4k UHD Roku Smart Tv
$249.99 HP 15.6″ Laptop
Save $5 when you spend $20 on select paperback books
Some of these deals will be even better when combined with circle offers for individual items and other promos.  Make sure to follow along on the Instagram/Facebook stories, Telegram, or Facebook group for new deals each day of the week.
Last but not least let's go over Walmart+ Week! This event will start for Walmart+ members on July 10th at noon ET. Non-Walmart+ members will get access to the deals on July 11th at noon ET. The event will go on until July 13th at 7pm ET.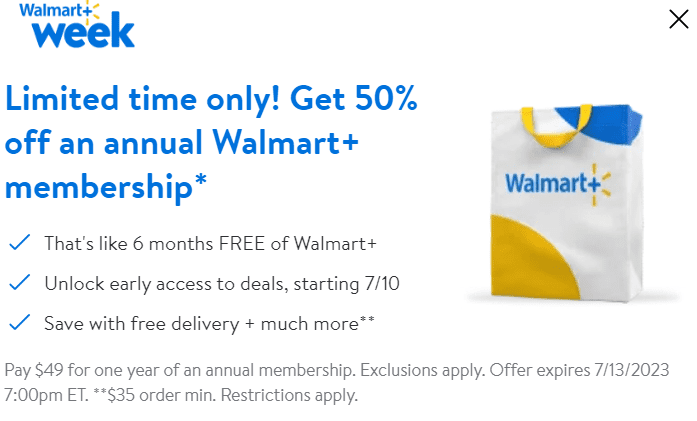 If you're not currently a member of Walmart+, now is a great time to sign up. From now until July 13th, you can save 50% off a Walmart+ annual membership. You'll pay $49 for one year of Walmart+, regularly $98. I think this week long promo puts the actual week in the W+ week since some of the actual deals are only for a few days. 
Walmart Plus Deals Preview
More deals include:
$49 Samsung Buds+ True Wireless Headphones
$498 Better Homes & Gardens Byrde Patio Set
$169.99 Lamborghini 12 V Powered Ride-On Vehicle
$59.99 Solo Stove Mesa Tabletop Fire Pit
$199 Shark® Vertex® Cordless Stick Vacuum with DuoClean® PowerFins
$249.95 Restored Vitamix 5300 Blender
Don't Miss Out
It will be an exciting week for deals and we'll most likely see other big retailers joining in on the deals and matching their prices to some of the sales. Don't miss out on any of the deals by following along on any of the following platforms: